VALUES
Premier customer service We treat our customers professionally and serve them in the best possible way. We make sure the products and services they receive will meet and exceed their expectations and we continuously seek to improve our processes to better serve them.
Operational excellence We make our workplace a safe place and hire the best professionals in our business. We develop partnerships with the best suppliers and continuously strive to produce perfect products. We invest in our people, processes and relationships to be the best in our industry.
Deliver business results We work and win as a team by promising and delivering the best results.
ANNUAL PRODUCTION CAPACITY
FACTORY PRODUCTION AREA
SECTORS
POWER & ENERGY
With increasing demand for sustainable energy solutions we are focusing resources on wind and solar energy projects. In this specialist area we have worked on projects including the Kuraymat Solar Power Plant in Egypt, Shams 1 CSP plant in UAE and wind farms in Egypt and Greece.
POWER & ENERGY
However, our experience is not limited to solar and wind projects. We have extensive experience on all kinds of Power and energy generations projects including the Talkha combined cycle power plant in Egypt, the Langage gas fired power station in the United Kingdom and the Cartagena combined cycle gas turbine power plant in Spain.
OIL & GAS
Growing economies rely on industry to provide the raw materials they need to thrive. We have worked on projects in the oil and gas extraction industry, as well as petroleum refineries and pipelines for crude petroleum and natural gas.
OIL & GAS
Our experience in this sector extends to supplying different diameters of piping, structural steel, piling, plate works, design and fabrication of pressure vessels and reactors and painting systems for clients including Bechtel and Archirodon.

Due to the environmental demands on companies operating in this sector, we frequently address challenging problems to reduce the environmental risks of our clients to the minimum acceptable levels
BUILDINGS
NSF has executed numerous large and complex projects through which we developed a wide range of niche core competences that enhance both our regional and international market positioning
BUILDINGS
Every project is met with NSF's proven expertise in project management along with exceptionally strong resources – the result of the Company's continuing investment in machinery, fleet, technology, and people. This investment assures NSF's capacity to deliver fast-track services and seamless technical support through the planning, design, construction, commissioning, and operational phases of projects.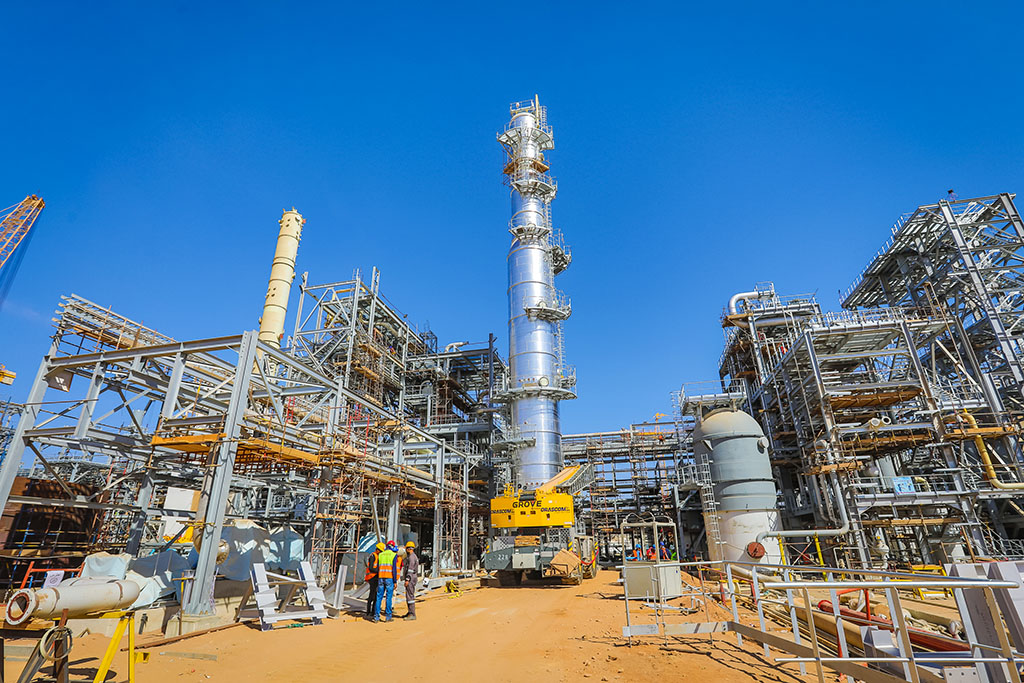 INDUSTRIAL
With the global economy focusing on industrial advancements, allowing more industries to take active roles in the markets worldwide, it was inevitable that industrial applications using extensive steel constructions would grow as a result
INDUSTRIAL
NSF has carried out several projects in the cement, FMCGs, and pharmaceutical sectors. With the experience gained from executing such projects, we have positioned ourselves as a market leader in this sector and we are well equipped for any kind of industrial application regardless of the design complexity and sophistication.
TRANSPORT
As the world strives to build bigger and more impressive structures, we continue to rise to the challenge. We produce components for mega constructions offsite and deliver them ready to slot into place. Precision and timely delivery is essential so as not to disrupt strict schedules.
TRANSPORT
We have worked on mega steel structures including the El Ferdan swing bridge – the longest of its kind in the world, the new Cairo Terminal 2 airport, the C-130 maintenance hanger at Cairo West air base and Borg El Arab airport.
PETROCHEMICAL
With increased global reliance on value added concepts, there has been a strong shift towards projects which involve transforming valuable raw materials like oil and gas into highly useful products which become the raw materials used in multiple other industries.
PETROCHEMICAL
NSF has also been very active in this sector, working on several fertilizers and natural gas based projects throughout the region.
---
CLIENTS
ABB
Abener
AC Boilers SpA, formerly Ansaldo Caldaie
Alstom
Archirodon Construction (Overseas) Co.S.A.
Babcock Hitachi
GS Engineering & Construction
Toyo Engineering Corporation
Orascom Construction Industries
Hyundai Corporation
BG International
Gamesa
CDM
CET
Chiyoda Corporation
Contrack
Eisenmann
Enppi
Tecnicas Reunidas
TOMEN
Toshiba
FLSMIDTH
Fluor Daniel
Bechtel
G+H Schallschutz
GE Power
BESIX Group
Skanska
UHDE
UWG
Techint
STF
IHI
INTEC
JGC
KELLOGG
Kvaerner
Limak
MHI
Metito
Schlumberger
SNC Lavalin
Nuova Cimimontubi
Foster Wheeler
Degremont
PGESCo
Snamprogetti
Procter&Gamble
SAE International
NEM
Nordex
SPIG
Polysius
Schade
Sinoma
Siemens
Technip